Reflexology
This is an holistic form to treatment that is applied to your bare feet whilst you are lying on a couch or reclining chair.
Appointments take one hour and are relaxing & pleasant to receive.
Commitment to a minimum of 3 sessions is necessary in order to begin to achieve results.
Appointments should be at weekly intervals initially in order to effect change.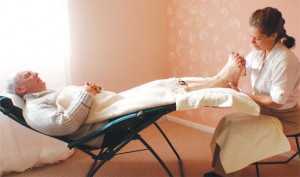 Costs: £45 per session
If a block booking of 3 appointments is made, then the total is £120, which is a saving to you of £15.
Christina's Reflexology has a policy of continuous improvement so all clients are asked for feedback after a number of treatments. We do value all comments and use them to improve our services and the clients experience.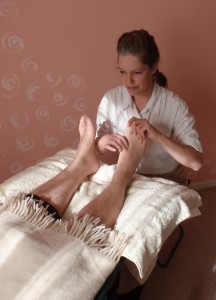 The main pioneer of Reflexology in Great Britain was the late Doreen Bayly who introduced the method in the early 1960's and whose great determination to stimulate awareness and interest in the method should not be forgotten.
Reflexology does not claim to be a 'cure-all' but many people have found they have been helped by reflexology. Surveys carried out by The British Reflexology Association showed benefits to those presenting with symptoms of stress, insomnia and irritable bowel syndrome.
According to Nicola Hall in her book 'Reflexology for Women' help may be given for ' a wide range of disorders including headaches, migraines, sinus congestion, stiffness in the neck and back, digestive problems, hormonal problems'.
Most people who have experienced a reflexology session would agree that the method is a very relaxing therapy which may reduce tension and lead to an improved sense of well-being.
After a course of treatment your body and spirit are strengthened from within, enabling you to be more centered and confident in living life.
It is very beneficial to follow up with a session, say every 3 or 4 weeks, to keep your life at a high level of energy and to prevent further problems re/occurring.
Freshness and cleanliness of the feet is appreciated – otherwise one may be re-directed to the washroom first!
Christina is already qualified as a Shiatsu Practitioner (1993), Reiki Tutor (1999), Raindrop Technique practitioner (2011) and a member of the British Reflexology Association. More information on Reflexology can be found at British Reflexology Association.
She trained in Reflexology with the original school set up by Doreen Bayly who first introduced Reflexology to the UK.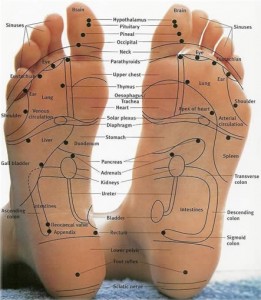 Reflexology can also be applied to the hands …