Reiki – Training Courses
Learn Hands on Healing
You can learn Dr Usui's system of Reiki healing energy very easily. It is suitable for well-grounded and steady people who have made a commitment to developing themselves.
The courses are only over 2 days, and that is enough to transmit the Reiki energy to you, through initiations.
The emphasis is on learning this energy skill in order to fine-tune yourself and remember to keep bringing yourself back to a point of stillness and calmness. This is in order to regain closeness with your true inner self rather than reacting to the outer world and its dramas.
Reiki Level One
You will be guided as to the hand positions to use for best effect, how to treat yourself first and foremost, and then how to give Reiki to other people such as friends & family, animals and plants. To be able to transmit positive energy, one must work towards clearing one's own dark inner sentiments, hence the emphasis on self-work.
Reiki Level Two
When you are ready to take your energy skills to another level, you come to the next 2 day course. At Level Two you will learn how to further strengthen this energy with the use of sacred symbols, and how to send Reiki energy across space and time (sometimes known as distant healing).
At this stage you will learn how to work with people (other than your family & friends who were your willing guinea pigs with Reiki One!), keeping client records, GDPR requirements, and insurance.
Christina's classes are best for those who want to ensure they gain a high level of confidence and full understanding in their training.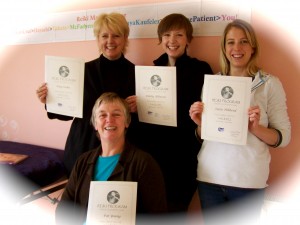 Certificates of training are provided at the end of each course.
I teach Levels One and Two with a time interval between the courses, in order for you to integrate the new energy. It's also about enjoying the journey rather than ticking off the boxes…
Although the courses are only over 2 days, the practise required to strengthen this energy in you is your responsibility. You can learn all the tools here, but you have to put in dedicated practise in the following days and months.
It's well worth it – your life will be truly enriched!
Reiki Training Price List
Reiki Level One £120
Reiki Level Two £190
Reiki Master £995
When you are ready to train in Reiki energy, the next step is really to receive at least one Reiki session, so that you can experience it first-hand and know if it is the right path for you.
Reiki Level One Course dates: 2023 t.b.a. (needs to be a group of 4 participants)
Reiki Level Two Course dates: 2023 t.b.a. (also needs to be a group of 4 participants)
Next Reiki Practitioners Meeting: 2023 t.b.a.
Purpose: To reconnect after your training course in order to follow up on experiences you have had, both in personal life and Reiki session you have given to others.
A chance to air queries that may have come up
To meet other people who have been through the same course as you, possibly with a view to arranging regular Reiki swops between you
To exchange treatments on each other
To experience several practitioners working on you at the same time (a short, but intense, energy zap that feels quite unusual!)
To receive inspiration and motivation to move forward with your Reiki
Reiki Training Locations
Kelso Health & Wellness, The Corn Exchange, 31 Woodmarket, Kelso TD5 7AT.
Berwick Upon Tweed.
Initiations can occasionally be arranged at sacred sites out in nature (delightful experiences!).
Christina can be invited to teach Reiki One and Two at other locations. If you have a group of friends who are willing to learn, just call or write and we will see what is possible to arrange.
Organic Oils
Afternoon workshops learning about and using organic Young Living oils (such as the ones in Raindrop Technique).
Covers safe use of the oils, where to apply, physical / emotional /spiritual qualities of the oils, and then putting this into practise.
Most recent training session was looking the the use of oils in the digestive system and how it is affectedly physical and emotional stresses. The afternoon resulted in everyone choosing to have the oil blend called "Awaken" applied – for spiritual and /or emotional enhancement…